50+ Years of The Ford Transit Van: A Look at Every Model From the Mk1 to the current Mk8 (with Pictures)
The Ford Transit is one of the best selling commercial vehicles in history, with over 8 million produced since 1965. It's a vehicle that has had its ups and downs through the years but it is still one of Ford's top-selling vehicles today.
We will be looking back on 50+ years of the Ford Transit van to see how this automotive workhorse has evolved from generation to generation.
We have found a picture of each production model from the Mk 1 to the current Mk 8 so you can see the evolution right before your very eyes.
First, let's talk about the Transit and what makes it so popular
The Ford Transit is one of the best selling commercial vehicles in history.
One of the reasons the Ford Transit is so popular is because it's a kind of van that is so flexible.
Made by Ford of Britain It became a popular commercial vehicle made ever since it launched.
Different body styles, fuel economy and its wide body allow the vehicle to do anything from hauling goods to transporting passengers. It can simply meet the needs of any business as it rolls all over Britain's roads. It is no wonder why the Ford Transit's reliability made it win the 2020 International Van of the Year award among the European Market. This isn't the first time that Ford Transit van captured the hearts of the said award-giving body, as it gained several awards years prior.
Here is a list of a wide range of Ford Transit body styles available straight from Ford:
Van
Double cab van
Single chassis cab
Double chassis cab
Passenger-carrier bus
The versatility and common usage of these vehicles go even further than you might realise. Ford and Westfalia have been producing campervans for the recreation market for over 40 years. The 'Nugget' is a Ford / Westfalia creation, based on the Ford Transit and other Ford van models such as the Ford Transit Custom.
If you'd like to convert a van yourself, the transit is a great choice. It's a big van with a basic design and there are plenty of DIY conversion guides available on the internet to help you.
Transit vans are a popular van of choice amongst DIY campervan converters due to their amazing features such as, affordable price and generous proportions, boasting three wheelbase lengths and two different roof heights to choose from.
Here is a list of Ford Transit wheelbase sizes available:
L2 - Medium wheelbase
L3 - Long wheelbase
L4 - Long wheelbase EF (EF standing for Extended Frame)
And the two heights available are:
H2 - Medium roof
H3 - High roof (Available on L2 and L3, Standard on L4)
Did you know we supply ford transit windows?
Right, let's get back to the original timeline of Ford's Transit Van...
To start off with, here's a simple overview of all the Ford Transit van generations and their associated marks:
1965: First Generation Ford Transits
1965 to 1978: Mk1 Ford Transit
1978 to 1986: Mk2 Ford Transit
1986: Second Generation Ford Transits
1986 to 1990: Mk3 Ford Transit
1991 to 1995: Mk4 Ford Transit
1995 to 2000: Mk5 Ford Transit
2000: Third Generation Ford Transits
2000 to 2006: Mk6 Ford Transit
2006 to 2014: Mk7 Ford Transit
2014: Fourth Generation Ford Transits
2014 to present: Mk8 Ford Transit
1965: The Birth of the Transit
In 1965, Ford began production of the Transit - a vehicle that would become a staple in the automotive industry for over 50 years and one of the company's most successful and iconic models.
First Generation Ford Transits
Mk1 Ford Transit (1965 to 1978)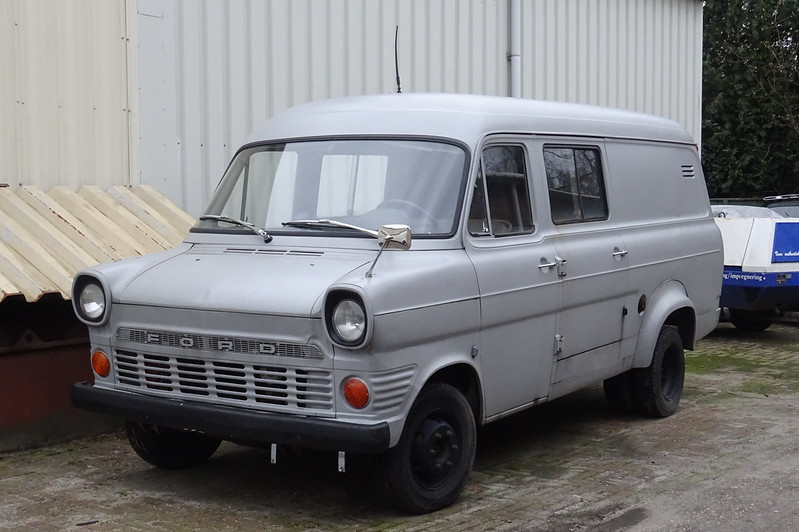 Ford Transit by peterolthof is licensed under CC BY 2.0
The Mk1 ford transit was introduced in 1965, as the replacement to the company's Thames brand of vans. The new model featured a totally redesigned body with a much larger and higher roofline which allowed for more load space than previous Ford van models.
The Mk1 was updated in 1969 with an all-new front end including recessed headlights, and a grille that protruded more from the body.
1973 Ford Transit 75 Camper by peterolthof is licensed under CC BY 2.0
A rare bullnose version was available from 1965 to 1971, it had a new nose which was longer than normal versions to accommodate the larger Perkins diesel engine.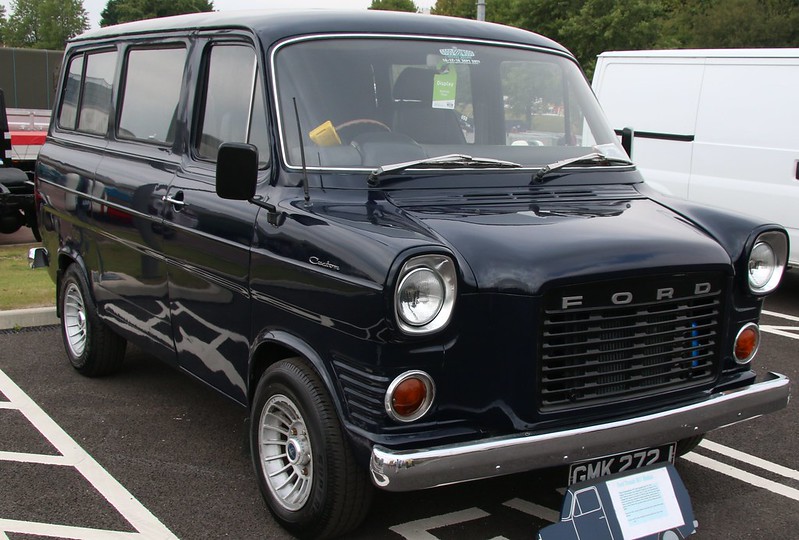 GMK272L Ford Transit minibus by Steve Knight is licensed under CC BY 2.0
Mk2 Ford Transit (1978 to 1986)
Ford Transit Van by Freggs is licensed under CC BY 2.0
Still in the first generation of this vehicle, in 1978 the Mk1 made way for the Mk2. Round headlights were replaced with square units, they would no longer protrude from the body. Instead, they were integrated into a new full-width modern grille. A large modern Ford badge replaced the traditional Transit logo.
1983 saw several updates to the Mk2 including larger bumpers and a new grille with fewer, wider slats and a more unified look.
1984 Ford Transit 2.0 LWB by kieranwhite599 is licensed under CC BY 2.0
Second Generation Ford Transits
Mk3 Ford Transit (1986 to 1990)
1987 Ford Transit by Gene Hunt is licensed under CC BY 2.0
The mk3 ford transit was given a more futuristic look, marking a major evolution in design. A distinctive slanted nose was introduced, set at the same angle as the windscreen. The square headlights were replaced with rectangular ones, and the grille was now set forward of the nose rather than being integrated into it.
Mk4 Ford Transit (1991 to 1995)
1994 Ford Transit 2.5 D GL Automatic by kieranwhite599 is licensed under CC BY 2.0
The mk3 was updated slightly in 1991 with the fitting of more rounded headlights and a revised grille. This came to be known as the mk4 even though the differences compared to its predecessor were minimal.
Mk5 Ford Transit (1995 to 2000)
1999 Ford Transit 120 SWB 2.5 Diesel by kieranwhite599 is licensed under CC BY 2.0
1995 saw the launch of the mk5 transit, the last of the second generation of Ford Transits. This time the most prominent change was a revised elongated oval grille with body colour surround, giving a cleaner, more polished look. Other notable changes were the fitting of a new, more powerful engine.
Third Generation Ford Transits
Mk6 Ford Transit (2000 to 2006)
Ford Transit 'Jumbo' by Draco2008 is licensed under CC BY 2.0
In 2000 Ford launched the third generation of Transit with a completely restyled body ready for the new millennium. It was also available in three different lengths - standard, medium and long wheelbase - Transits were now more suited for professional transit courier duties such as light trucks or vans rather than just small delivery vehicles.
The exterior was now lower and wider, with side windows replaced by extending panels of door glass that wrapped around to meet at the C-pillar.
Mk7 Ford Transit (2006 to 2014)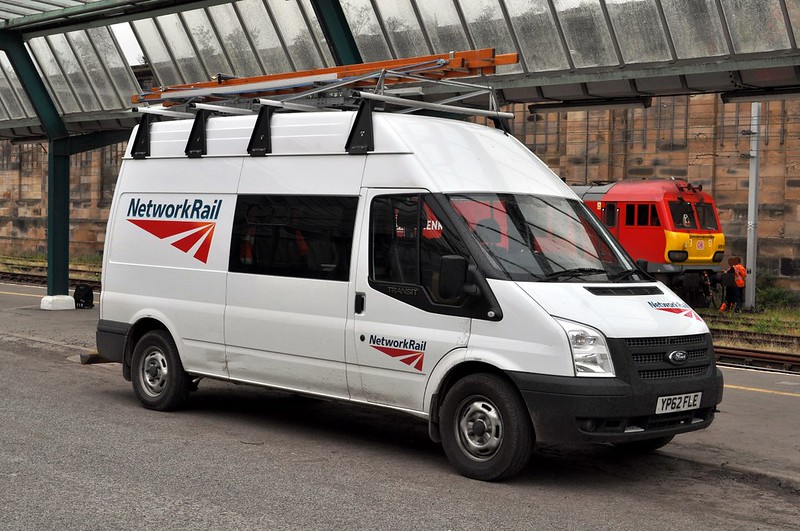 Network Rail's Ford Transit, YP62 FLE. by Raymondo166 is licensed under CC BY 2.0
Although the mk7 was simply a facelift of the mk6, it was a major facelift the differences were significant. In fact it looked like a totally new van. The headlights were much larger than before, and the nose was now higher, making way for a new deeper grille. Other changes in the cab and to the engine meant this transit felt like, and had the performance of a car. The mk7 was the last in the third generation that spanned 14 years.
Fourth Generation Ford Transits
Mk8 Ford Transit (2014 to present)
Police Transit by pw.townley@btinternet.com is licensed under CC BY 2.0
The new transit, model year 2014 was a whole new design. Moving away from the boxy style of previous vans and more towards a more sleek look with swept-back headlamps.
After various facelifts and modifications over the years, this latest version of the transit is one that has been finely tuned to make it the most efficient, safe and reliable commercial van in Ford's history. Efficiency is a key factor in the evolution of the transit, the new hybrid EcoBlue range combines battery-driven electric motors with robust diesel engines. Furthermore the much anticipated all electric E-Transit is due for launch in 2022.
The Ford Transit Van has been a symbol of excellence for 50 years, a popular cargo van and passenger van. It's the most known compact van and is one of the vehicles deemed to be the backbone of Britain, and with good reason - it offers more features than any other vehicle on the market!
From the latest innovations to improve efficiency for businesses to its versatility as a recreational vehicle that can be customized according to your needs, this is one of the best vehicles you could invest in. If you're looking for an efficient way to get around town or something fun for family vacations, consider investing in a new Ford Transit Van! You won't regret it when you see all these great benefits firsthand. Test Drive a transit van today.